New Office Hours and Telemedicine
In light of recent events taking place globally and locally regarding COVID-19 (Coronavirus), we have temporarily reduced the office hours for our locations as shown below.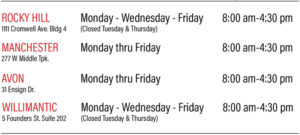 Telemedicine
In addition we are now offering a Telemedicine option to help you reduce your risk of exposure. Telemedicine is a teleconferencing video chat service where you can have an online appointment with one of our medical providers in the comfort of your own home.
The benefits of this service at this critical time are:
Decreased risk of COVID-19 virus exposure
Keep our local hospital emergency departments clear
You will receive quality medical care in the comfort and convenience of your home
Our Telemedicine service is immediately available to all patients. If you have an upcoming appointment with one of our providers and are considering using our video chat service, please call us so that we can determine if it will work for you.
Please call (860) 525-4469 to schedule an appointment or to see if our Telemedicine videoconferencing service is right for your specific needs.
All four locations remain open if you prefer to see us in person. Please note the modified hours of operation above.